We got to know Ashwin van der Flier through his girlfriend and race partner Patricia Kok back in 2018. That is where our collaboration with van der Flier Racing started. We have not introduced Ashwin yet so here's his riders profile.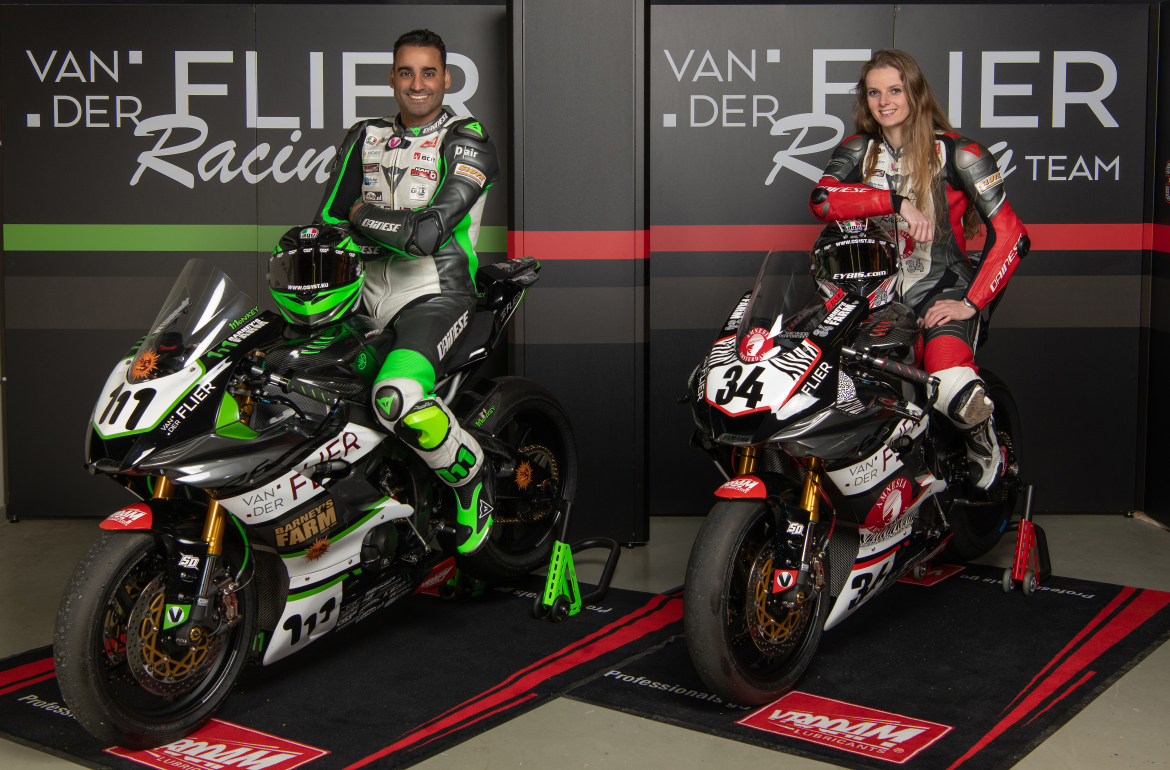 Ashwin is 35 years old and lives in Heerhugowaard, the Netherlands. He graduated from VU Amsterdam, where he earned his Master's degrees in Tax Law and Accounting & Control. After his graduation, he started his own business and eventually took over the family business. He integrated both his tax law firm and the accounting firm into a specialized advisers firm.
What inspired you to start riding?
"I have been riding in my spare time for a long time. I started riding on mopeds and scooters at the age of 15. I began riding motorcycle at my 20th. Due to lack of time it never came to racing, but when I was 27 I finally rode on the Zandvoort circuit. I enjoyed this so much that I slowly expanded it into a race team."
Who is your great example?
"I have always admired Guy Martin, the way he rides and the fact he works on the bikes himself. Personally, I love working on bikes, I prefer to be in the workshop all day. Until recently I did everything on the bikes myself up until our racing came to a level where it wasn't possible anymore."
What are your greatest achievements in recent years?
"The fact that I was able to start in the SuperCup 600 in 2019 is definitely a highlight. I am also very proud of my first race victory in the SportCup 600 in Assen back in 2016 and the podium positions in Dijon, France in the ProCup 600 in 2017."
Can you tell us how the collaboration with VROOAM started?
"I have been using VROOAM since 2018. I got in touch with the VROOAM products through my girlfriend Patricia. Personally, I am a fan of the Chain Cleaner, Clear Tack Racing Chain Lube and the VR90 5W-40 engine oil. The chain cleaner works so well that almost every race we get asked if it is a new chain. The Clear Tack Racing Chain Lube is also great. It's extremely "sticky", so the chain remains optimally lubricated and it does not fling-off while riding. In the past it occasionally happened that I came back with a dirty behind after lubricating the chain. This doesn't happen anymore with the Clear Tack."
Can you tell a bit more about your race bike?
"Patricia and I ride the 2019 Yamaha R6, fully built by Ahnendorp Tuning. We have chosen to ride the World Cup electronics from MecTronik and we like it very much. Our main sponsors stayed the same, so in terms of design for this year the bikes are the same as in 2019."
What was your goal for this season and how does the COVID Pandemic affect it?
"I had a changeable season in 2019 because of the problems with my right hand. After a major crash in 2017, I had to undergo several operations, and this caused many problems with my endurance abilities. My goal this year is to ride a constant pace for longer time and a top 15 ranking. In rainy conditions I am aiming for a top 8 finish.
Unfortunately, due to the COVID outbreak, we are unable to participate in the championship and we had to postpone our goals for this season. Hopefully we can start the races after September 1st and I will be ready and fit to go."
Now that training options are limited How do you stay fit?

"Before motor racing I was a pretty decent runner. I still enjoy it so due the COVID I am now running a bit more than usual to keep my condition on the right level."
Which event are you looking forward to?
"I always like to ride on as many different circuits as possible and as long as we are unable to compete in the championship, we will try to participate on trackdays all around Europe. This year there is a new circuit on the agenda, Schleiz-Dreieck. This seems like good and fun challenge to me. In between we will race on Ledenon, Paul Ricard, Hockenheim, Red Bull Ring and after the season there are also trainings scheduled at Misano and Mugello, which are circuits that are high on my list. I am really looking forward to it."